Volkerrail / Rijkswaterstaat
United / Royal Dutch Marine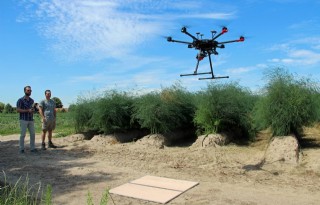 BAM is begonnen met een eigen onderzoek naar het instorten van de nieuwe parkeergarage bij Eindhoven Airport. Omdat de bouwplaats vanwege het veiligheidsrisico niet te betreden is, is het bedrijf daarbij afhankelijk van drones.
Met een drone en plantsapmetingen zoeken vollegrondsgroentetelers in Limburg naar een systematiek om nog efficiënter te bemesten.
Groene drone scant de natuur
October 11th 2017 we flew a very interesting project for Lumbricus programma, Deltares , Waterschap Aa en Maas and Wageningen University & Research . Scientific data and pictures will be produced by the companies mentioned above.
Aerial data was captured by a Cubert Hyperspectrum camera, MicroSense RedEdge and Sony Alpha 7R.
Wij van Euro Drone Inspections vonden het gaaf om hier aan mee te hebben gewerkt !! Bedankt United en in het bijzonder Pieter Visser en Patricia van Huystee-Walhof voor een bijzonder leerzame dag.